Survivor

, the Original and Still Champion of "reality" TV shows, is again leading the way in network programming.
By Mark Connolly
Temporary Movie Critic
Mark Burnett, acknowledging that he has many imitators, the most egregious
of which are foisted upon the viewing public by rival studios, knows
that reality shows have just about run their course. "It is clearly
obvious that most of the reality tripe being served to the viewing
public is entirely staged, and even the minutest of interactions are scripted.
Actors playing 'normal' poeple is the latest twist. However, this is a
one time fix, unless I underestimate the stupidity of the American
people... well.. strike that. Anyway, I refuse to lower my
standards. I will continue to serve up reality
menudo
.
"Just about all the possible permutations have been tried. Fake reality, Real
fakery, double blind who's playing and who's acting, etc. The next step
is to really fake out everyone, even Jeff Probst, and of course the
discerning audience."
Burnett of course refused to comment further, stating that surprise is the only thing he has going for the show. But, disgruntled insider
Jeri Manthey,
in her hatred of all things Survivor immediately dropped a dime on Burnett as soon as she heard The Glob was on the trail.
"Ok, here's the deal. Since I refused their offers to be on the show yet
again, they have had to resort to the cheapest and least imaginative of
premises. They are going to have a real celebrity that no one
recognizes anymore crash the campsite."
Right about the time she was about to reveal that celebrity, she said she wanted to leave, and ran off.
The Glob doesn't need much of a lead though. We were on it like cowbirds on
cows. Now, we don't want to give away anything, but, she had instant
fame as a singer songwriter, then went on to play
God herself
in
Dogma
.
(Really, by the way, you should see this movie.) We have a picture of
her in full Survivor regalia, you can just about see her
buff
.
Woo hoo. As Jay would say "I'm getting half a
censored
."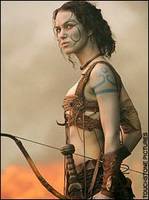 I can hardly wait for next season!! Ψ