Mind Control
By Mark Connolly
Editor, Dallas Bureau
A plan has been in the works for years. Spawned in the creative minds of a desperate Democratic Party during the Reagan/Bush years, and appealing to unholy powers while tinkering with knowledge beyond our ken, It now comes to fruition.
This is mind control; control of the minds of the populace, and control of the minds of the politicians. This is not the Manchurian Candidate, though that could be the inspiration. No, it is Stepford Politician. To what end is not clear yet. Perhaps, just THE end.
The first signs were evident during Bill Clinton's initial campaign for president. When he was giving speeches and really trying to seem earnest, he would punctuate his speeches with a kind of affected "thumbs up" gesture. I know you've seen it. Fist extended with the thumb kind of poking up, almost like you might have a piece of paper pinched between your thumb and the side of the first phalange of your forefinger. Somewhere it was presented that he was doing this in imitation of General Eisenhower, from a famous photo taken during World War II. This picture was taken just prior to D-Day, and reportedly was captioned to the effect that Eisenhower was giving the troops a 'thumbs up'.
There is something comforting about the picture, and inspiring, especially taking into account how horrific D-Day turned out to be while still signaling the beginning of the end of German aggression.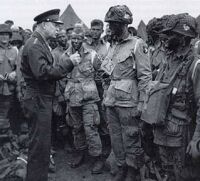 The beginning of the thumb
Clinton deliberately used a gesture that psychologically instilled in the populace a feeling of trust and a belief in his competence. It was a calculated gesture, and it worked. What is funny/sad about this is something I saw on the History channel the other day. It was one of many specials marking the anniversary of D-Day, and it was from one of the survivors. He's apparently in that picture. Dwight, he says, was talking with the men about fly-fishing, and showing how you hold the rod.
The question in my mind is, how smart is Clinton anyway? Is he really that calculating, or does he take direction from some other source? No one knows for sure, though the rumors fly about Hillary's control. But I think it may be even more sinister, if not provable. I simply present the following photo taken by Russian Parapsychologist Investigators using special purpose built cameras.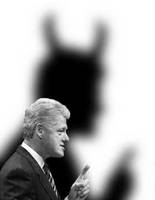 The author of this diabolical plan
This is concerning because his calculated earnestness managed to land him the Presidency, not once, but twice. And that is appalling when you realize his real attitude towards the American People.
"Yeah, I got your American People right here..."
Clinton's alarming success could not be repeated by Gore, the first prototype Stepford politician. He simply had no emotion, and could not form a bond with the voters.
Vice President Al Gore
So, the next step was to simply build a viable Presidential candidate from scratch.
How it works
Take a politician, and strip him down to his constituent parts. Remove all sense of self respect and replace with unbridled ego. Excise any actual sense of compassion and fill the void with naked ambition. D&C the conscience and replace with a waffle iron. Perform a continuityectomy, and replace with expediency. This procedure also requires that a Jarvik 7 Memory Loss module be implanted to deal with any inconvenient recollection that might lead to a sense of shame. The result is a
Whatever it Takes
approach to getting elected, without the annoyance of scruples.
How it works
It is perhaps not surprising that the party of abortion and stem cell research is leading the way in the creation of "life" that will simply follow orders and appeal to the lowest common denominator without having any pesky traits like individual thought or a sense of right and wrong.
If you watch the physical behavior of any Democratic speaker, you will see this fly-fishing thumbs up gesture used during any speech where they begin to make up something that they want the populace to accept uncritically. It is a visible clue intended to set your mind at ease (or turn it off) while they spout something preposterous.
All kidding aside, if you do watch for this, you will see it over and over. Evidently they all have the same handler/speech coach. Or, it must be perceived as a gesture that works, and it has crept into their mannerisms in the same way that teen age kids imitate the words and actions of the current hot rap star. They don't know why they are doing it, they just do it because it is the thing to do. I've seen Kerry do it, and I've seen Edwards do it. It is used while stating things like "I will be a president that seeks to unite, rather than divide" or some other substanceless cotton candy of a sound bite.
I would really like to know what Kerry stands for. I've talked to some Kerry supporters. I've asked them what his plans are for dealing with terrorism. Not one of them has an articulable understanding of Kerry's plans. All I get is "Whatever it is, it will be better than Bush." These are reasonably intelligent people! I don't understand.
It must be the thumb. Ψ